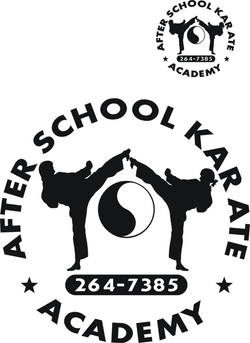 After School
Program
:


Monday - Friday, 2:15 - 5:00
PM. (Pick-up until 6pm)
We provide school pick-up
service at Pine Valley, Codington, Parsley, Anderson, Bellamy, and Holly Tree,

Drop-off's welcome
after 3pm.
Assisted homework & study
time.
$85 per week for After School;
fee includes help with homework and daily martial arts
instruction.
$55 registration fee
includes a Karate Gi (uniform).
Martial
Arts
:
Character Building:
We feel that Karate/Kung Fu training is
more than just the physical aspects. We also focus on building character
through Biblical examples. Integrity, Respect, and Focus are three of the
main areas that we will relate to real life examples.
Integrity:
Doing what's right at
all times...especially when no one is looking or when he/she could get away
with it.
Respect:
This is what Karate/Kung
Fu is all about. To regard with honor. This includes parents, teachers, those
in authority, and each other.
Focus:
To concentrate your
energy/attention toward a particular point or purpose.
Daily Karate/Kung Fu
Training:
At the "After School Karate Academy" we
teach practical self defense, Shaolin Kung Fu, Kempo Karate and key
elements of several other styles like Brazilian Jujitsu, and Kali
sticks.
Chris Redmond, the head instructor at the "After School Karate Academy" has
trained in the Martial Arts since 1980. Additionally, he holds a Business
Degree from UNC-Cameron School of Business and he currently teaches 6th thru
8th grade students (Youth Group-Boys) at College Acres Baptist Church on
Eastwood Rd.
Carol Redmond, holds a Communication Degree from UNC-Wilmington. She is currently
the Pre-School Connection Leader at College Acres Baptist Church and teaches
the 4 year old class. Carol has been trained by the Cape Fear Literacy
Council in Tutoring and she has completed "Leadership Wilmington". Carol
will assist the students with completing homework assignments.
Homeschooler
and Drop-Off Information
:
By prearrangement
only. Call 264-7385 and speak to
Chris Redmond.
Drop Off/ Occasional Visit:
Karate/ Tutoring classes @ $20 per day. (3pm until
5:30pm)
Summer Camp
Program :
Monday - Friday, 7:30 AM - 6:00
PM. (All Weeks with the exception of
July 10th thru 14th)
Morning activities each day,
include Defy Gravity, Laser tag, Nerf wars, Swimming, Movies, Bowling, or Skating.
Karate/Kung Fu Lessons in the
afternoon. Students should pack lunch, water bottle and
snack.
$165 per week. (Includes cost of field trips)
Fees:
Weekly Full Time After School
Program - $85 per week with monthly
commitment.
Payable on Mondays. A late
fee of $20 will be charged for all payments not received by Wednesday of
particular week.
Drop off students - $75
per week
Can be dropped off at
Afterschool Karate Academy after 3pm and will participate in regular
afterschool activities.
Teacher Workdays or Vacation
Days - (7:30 AM until 6:00 PM) $40 per day for students of
Afterschool Karate Academy. Students not enrolled with our weekly program
can call for availability. The fee is $50
per day.
Weekly students only pay
$30 for the additional 7hrs that day.


We follow New Hanover County Schools regarding closings due to
weather. If NHC schools do not operate for the day due to weather, or
close early, we are not able to provide service for that day.


Year Round Intersession Weeks -
$165/week (7:30 AM until 6:00 PM)
Includes activity fee for defy gravity, laser tag, swimming, bowling, skating.
Summer Camp Weeks-
$165/week (7:30 AM until 6:00 PM)
Includes activity fee.
Late Pick-up Fees: Starting at 6:00 pm there
will be a $15 late fee. Class ends at 5:00 and we
allow 1 hour before late fees start.


School
Rules:

At the After School Karate Academy, we seek
to provide an environment for your child/children that is safe, encourages
respect for others, develops integrity, increases focus, builds character
and improves social skills. Therefore, we adhere closely to the following
set of guidelines. We make no apologies for our high standards. With over 40
years of combined experience, we have found that teaching and reinforcing
these skills to children in grades K through 8th helps prevent difficulties
in the teen years and later in adult life.

Expectations:

Students are expected to
respect all other students and adults. This includes:

Hitting, shoving, cutting
in line, etc. is not tolerated.
Profanity, making fun of
another student, or name-calling is not acceptable. We will focus on words that encourage and lift up
others.


Students may not punch or
kick close to other students unless during Karate instruction.

Students are expected to
answer instructors with yes/no sir/ma'am.
All property will be handled with care. This includes:
No throwing of any objects
(unless during supervised games)

For safety, students are
not allowed to use any Karate equipment without
permission.
Behavior
Management:

Discipline
at the After School Karate Academy is
handled in the following manner:

For minor misbehavior, the
student will sit in time-out for a certain amount of time. This allows the
student to think about his/her behavior while missing out on class
participation. The next level of punishment involves physical
encouragement (doing jumping jacks for a set amount of time, depending
on the behavior observed).

Students who continue to disobey school
rules after the above mentioned punishments have been issued, will be
required to sit in time-out until picked up by their parents. We reserve the
right to discharge any student that creates a constant class disturbance
that hinders the learning of other students.

Proverbs 22:6
Train up a child in the way he should go, and when he is old he will not depart
from it.

For
more information, call or visit us at:

After School Karate Academy
4837 Carolina Bch Rd, Suite 111
Wilmington, NC 28412
(910) 264-7385

www.afterschoolkarate.biz










---